Every day, I make some time to flick through the recent discussion on the popular social network, twitter.
There's always a lot going on and, even though I do a few things to make the process of sorting through the news feed easier, it can become a bit repetitive.
When someone does something different, it's like they've jumped out of the platform, slapped you in the face and forced you to pay attention.
And that's what happened to me just now: Officrèche found its voice and proceeded to slap me right in the face.
What is Officrèche?
Officrèche is a nursery and co-working space based in Brighton. It allows working parents to book a childcare session while they work in the office space upstairs.
It's a great idea and one that you can find out more about in an earlier article on how smaller nurseries can compete with larger chains.
What did Officrèche do to catch your attention?
In short, Officrèche began to use its twitter profile differently: crafting it's tweets and related content to target its audience and communicate the unique offer of its service.
To see how they're doing that, let's take a quick look at what they used to do. Here's a screenshot of the business's tweets from just a few months ago: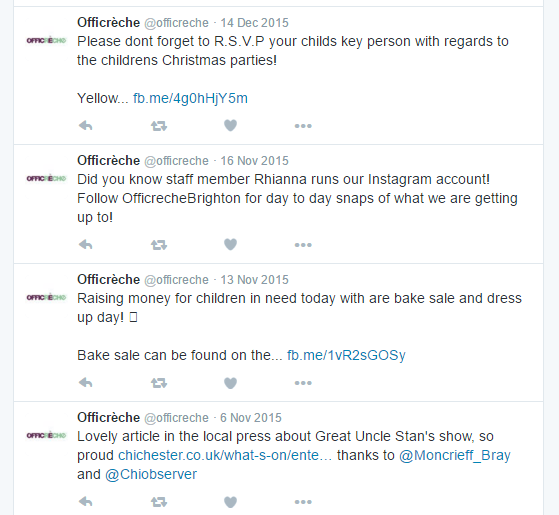 The picture shows a relatively straight forward stream of general updates about what's happening at the nursery (with some links shared from facebook). Although there's nothing necessarily wrong with the approach, it's standard fare that you might expect from any nursery. Officrèche is itself a bit different, so I'd like to see something to reflect the same…and they have recently done just that.
Officrèche's new approach
Take a look at this example of the new approach:
You HAVE to check out My Pet Monster and Me by @BlunderbusBugle this Brighton Fringe. https://t.co/cgkl5quMBh pic.twitter.com/mwWUlDkqxF

— Officrèche (@officreche) 13 May 2016
Thwack! The image stands out like the red mark on my cheek. It draws your attention to the content of the tweet: a recommendation for parents who might be interested in taking their children to a local and current event. I'll highlight who that content is relevant for: local parents – people who may want to use a nursery. Great stuff.
Let's look at this second example:
Shifting from full time mum to working mum can be daunting… here's how to do it. https://t.co/Nk0TaFcpQL pic.twitter.com/RfERaFQyad

— Officrèche (@officreche) 16 May 2016
Again we have the image, but this time we have a link to an article about returning to work after having a baby. This is clearly targeted at working parents (or parents who may be considering returning to work). In other words: people who may want to use a nursery and/or a co-working space. I like it!
This third example is the one that really left the words "Officrèche" imprinted across my face.
Attending #BrightonSEO today? Here are six talks you must must MUST attend. https://t.co/1E79n0bhPz pic.twitter.com/RKTSAROWDG

— Officrèche (@officreche) 22 April 2016
The topic of the tweet has nothing at all to do with parents. The tweet references a popular local business event that people who might use a co-working space are likely to be interested in…some of whom may be parents.
This all demonstrates that, as well as local parents, Officrèche is making an effort to target local freelancers / business owners who may or may not be parents.
By tailoring the content of the tweets – and the related content – this new approach puts Officrèche in front of potential customers and it reinforces its unique position as both a nursery and a co-working space.
We need to talk about the content
The intelligent construction of the tweets is what caught my attention, but the carefully targeted content cemented by interest.
All of the tweets highlighted above link to content that Officrèche has created themselves on their own website. If you take a few minutes to visit Officrèche's blog, you'll find a good mix of articles that cover both the working and parent elements, with some crossover.
So you'll see content with titles such as "why Brighton is a great place for freelancers", "How flexible childcare can work for you" and"Our five favourite books for pre-schoolers". (Hot tip: people love lists and recommendations from experts.)
By placing more emphasis on the promotion of their own content, I suspect Officrèche is hoping to drive more traffic to the website with a view to generating more leads. We'd have to access the analytics to find out if the new approach is working, but I think they're on to something.
Can they keep it up?
Creating high-quality content on a regular basis is a lot of hard work.
That's why some businesses choose to also share curated content: relevant content created by other people. The downside is that curated content won't instantly drive so much traffic to the website. It's not easy to get the right balance between quality and quantity and, in fact, I do think some of the content on the Officrèche website could do with a bit of sprucing up. (I accept the charge of "look who's talking"!)
Having said that, new blog posts are regularly being added to the website and the tone of voice is coming together nicely and authentically. Officrèche also continue to strike a balance between broadcasting information and engaging directly with people on twitter.
I'm certain that they've now found their voice. What's particularly reassuring is that the team appear to have adopted a test and learn approach to get to this point. If Officrèche continue to experiment and fine-tune, as they have done so far, I've no doubt that their new approach will lead to even more success.
So, Officrèche, you have my attention but I'm going to protect my face – who knows what great ideas you'll come up with next?
A response from Officrèche
I reached out to Officrèche to let them know that I was writing this article and received the following response from Rob Trounce who manages their social media strategy (edited for brevity).
"At this point, Officrèche is targeting three main audiences:

parents
freelancers and small business owners and
that Venn diagram sweet-spot of parents who own small businesses.

We also know that from a business perspective, our customers tend to be very local. That's why we've been targeting Brighton-based entrepreneurs and parents in numerous ways, tapping into networks such as the 'mumpreneurs'…

We have been using Twitter to drive traffic to our site and blog. As we build an audience that's interested in what we're doing, we can show off old content to them and produce new content for them, further cementing our brand image in their mind…

In just a single month we saw our Twitter activity in terms of impressions rise by around 18x. We've gone from seeing around 1,000 impressions on our tweets in a month to 18,000. We've also seen much of that convert into traffic to our website – we had 200 more visitors come through to our site from Twitter than we normally would in a month…Our Twitter followers jumped by about 500 in the space of a month too…

The more we build our audience, the more we can understand them, their needs, and the kind of content they'd like to read on our blog too."
It's good to see that Officrèche are already getting the results they deserve from a well thought out campaign. It's also good to see the benefits a carefully selected marketing professional can provide! Definitely a case of "great work everyone involved"!
Things to consider for you social media strategy
Who is your target audience and what is your unique selling point? How can you best communicate the benefits of your service?
What's the most appropriate way for you to use twitter? What balance should you strike between engaging directly with people or broadcasting information?
How should your use of twitter align with all the other tools and channels at your disposal (including offline)?
Do you have enough time and expertise to create your own high-quality targeted content?
What are your overall goals? What do you need to measure to find out if your approach works?
Richard Duddy is Marketing Consultant. He has worked with companies big and small and one day realised that he enjoys helping people to realise great ideas.
Latest posts by Richard Duddy (see all)